The 10 Best New Coffee Shops in Vancouver 2020
Day one of The Snobby awards is here and this year I've dropped the usual "Best Brunch in Vancouver" award and replaced it with The 10 Best New Coffee Shops award instead.
The criteria for this award is simple: the coffee shop must have opened its doors in 2020.
To be honest, no one really read the brunch awards anyway, so I'm pretty sure this one will be more exciting. Especially given now many amazing new coffee shops have opened this year.
---
This list is bought to you by Siply
Siply is Vancouver's biggest and sexiest coffee shop app… that I just so happened to have created myself.
Using Siply you can find the best coffee shops in town (which you'll see I've tagged below). Then you can use the app to buy coffee in those shops at amazing prices. I'm talking about an average saving of $1 off each drink.
If you're interested in learning more you can head to the Siply website. Alternatively, go straight to the source and download the app on iOS here or Android here.
Well, without further ado, here's the list of the 10 best new coffee shops in Vancouver 2020.
---
10. Winston
228 Lonsdale Ave, North Vancouver
On Siply – Yes!

From the genius crew that bought you KOFFIE, comes Lower Lonsdale's latest lovely land of lattes and lungos!
Winston looks tiny from the outside but it's a monster venue when you get in. With vaulted ceilings and a kick-ass mezzanine level, there's loads of seating to perch your coffee-loving cheeks. And on the subject of coffee, the drinks are always delicious. They're a multi-roaster, so the lineup of beans is always changing. Their food game is next level, with several brunch options and periodic late-night fancy pants dining events.
Vancouver Coffee Snob Recommendation: You're almost certainly going to hear an Aussie accent or two in there, so line up a Flat White and you'll be in safe hands.
Click here to use Siply to unlock the best pricing at Winston
---
9. Enroute
2205 W 1st Ave, Kitsilano
Enroute are very heavily tied in with the local road bike scene, so be sure to get EXTRA spandex'd up when you visit them.
But don't feel like you have to be a bike-list to enjoy their cafe. It's actually a very comfortable and open venue for those without two wheels and a plastic hat. The coffee is from Phil and Sebastian and I've honestly not met such enthusiastic baristas in ages. 
Shout out to Alex and Mytay (probably spelled that wrong) for killing it at customer service here!
Vancouver Coffee Snob Recommendation: Enroute has really gone the extra mile on their filter coffee, with some clever hacks to their Fetco brewer. For that reason, I believe they have one of the best grab and go batch brew coffee's in the city.
---
8. Coho Coffee
1507 Powell St, East Vancouver
On Siply – Yes!
Coho has been lurking around the coffee scene for a few years now, as the creators of A Brunch Affair. So I was particularly excited when they said they were opening a coffee shop. But this one has a major difference to it: All the food here is cooked in the enormous commissary kitchen in the back.
The kitchen is rented by up-and-coming chefs, wannabe chefs and smaller independent businesses. They get to showcase their grub in the beautiful and light coffee shop space.
Foodies REALLY need to add this to their list of places to eat.
Vancouver Coffee Snob Recommendation: They've recently upgraded their coffee game to use House of Funk beans, so get drinking anything with espresso and Oat Milk. My personal preference is a Cortado.
Click here to use Siply to unlock the best pricing at Coho Coffee
---
7. Palate Kitchen
848 W Hastings St, Downtown
On Siply – Yes!
There's a damn good reason that this place got the highest score I've ever given on any review on this blog. It. Is. Sensational.
Imagine the biggest and fanciest Heritage House you've ever seen, then splash it with aesthetic elements from one of my favourite interior designers. Then lubricate the whole thing with Pallet Coffee Roasters drinks. Their food lineup varies from fancy-as-hell breakfast items (see above photo) all the way to solid favourites like burgers. Everything I've eaten there is flawless.
Vancouver Coffee Snob Recommendation: Palate Kitchen have an incredible lineup of beans, so 99% of the time I end up going for a pour-over. 100% of the time it's perfectly made.
Click here to read my review of Palate Kitchen
Click here to use Siply to unlock the best pricing at Palate Kitchen
---
Interlude from The 10 Best New Coffee Shops in Vancouver 2020!
The 10 Best New Coffee Shops in Vancouver 2020 will continue after this quick ad break!
For the last year, I've been working on a project called Siply. You might have noticed that throughout this article I reference whether a shop is part of the Siply network or not.
Siply is an app that gives you a curated list of the best coffee shops in Vancouver. Then it gives you amazing deals on drinks.
Simply put – you can't get better prices on your drinks anywhere else than this app. I made a little calculator to show this. Have a play with it and see what you think:
If you're keen to take it out for a whirl, you can download it by visiting the website here.
---
6. United Strangers
2740 Mt Seymour Pkwy, North Vancouver
North Van seems to be the place to open coffee shops this year, with another addition to the 10 best new coffee shops in Vancouver 2020 list. But this time you don't have to battle your way through the gross Lonsdale traffic to get to it.
United Strangers is a large and bright venue, with a beautiful light wood tone running through it. There are loads of parking spots outside and it's very easy to bike to (it's been heavily adopted by the local cycling scene). They're a multi-roaster but heavily feature Pallet coffee alongside Agro and House of Funk. I've always been impressed by their drinks and light savoury and sweet food options.
If you're lucky you'll get to meet the owners, Joe and Christine or the CEO, Edie. Three of the loveliest and hardest working folks in the coffee industry.
Vancouver Coffee Snob Recommendation: On my last visit I mixed it up with a decaf Americano and holy crap it might be the best I've ever had. VERY juicy and fruity. It's well worth a try.
---
5. Cafe Portrait
1120 Denman St, West End
On Siply – Yes!
I guarantee you've not been into a coffee shop like this before! Cafe Portrait is covered and I mean literally covered in, you guessed it, portraits! All of them hand-painted by one of the owners.
You can expect a full espresso lineup using coffee from Agro as well as a huge, varied and very high-quality lineup of lunch and brunch food available each day. The team that runs the place are all family and they extend that warmth to every customer. I've seen more giant smiles coming out of this cafe than I think I've seen at most coffee shops!
Vancouver Coffee Snob Recommendation: I HIGHLY recommend try their Turkish Coffee. It's unique, delicious and really fun to watch them make. It packs a flavour punch though, so it's not for the faint of heart.
Click here to use Siply to unlock the best pricing at Cafe Portrait
---
4. Smoking Gun
2485 Townline Rd, Abbotsford

OK, I know it's quite far from where you probably live, but if you can stomach the trip out to Abbotsford, you will not regret visiting Smoking Gun. But good news, they're moving soon!
To Chilliwack…
You can expect a very high-quality lineup of coffee, all roasted in-house, alongside a selection of delightfully sweet and savoury treats, all made hyper-locally.
It's been amazing watching the SG team navigate through the challenges of 2020. They were one of the first to offer drive-in service, delivering coffee right to your car, as well as integrating heavily into their local community to offer deals and promos. They've worked damn hard and despite their new venue being even further away, I'll be the first to visit when they open.
Vancouver Coffee Snob Recommendation: I was extremely impressed by their straight-up filter coffee! It's often a lighter bean (I favour Ethiopian) but their medium offerings are also really great.
---
3. Prado Cafe (Southlands)
Unit 104, 6388 Market Avenue, Delta
On Siply – Yes!

Southlands is North America's largest Agri-hood. What this means is that there is a growing residential and commercial neighbourhood in the middle of some beautiful farm land in Delta. Smack dab in the middle of all of this is the latest Prado Cafe.
It's a spacious and good looking venue, with the vibe and coffee you expect from any other Prado. They're very community-focused and their coffee game is always very high quality (what with their owner being a multi-award-winning barista champ). However, this Prado has a little trick up its sleeve. Their food menu is much different than their other cafes. Get lucky and you might even find pizza available.
Vancouver Coffee Snob Recommendation: Prado favour a darker Espresso, but do it really well. I recommend starting with a Flat White if you're into a bit of punch with your drink or a Latte if you like it smooth and mellow.
Click here to use Siply to unlock the best pricing at Prado Southlands
---
2. Kafka's Gastown
151 W Hastings St, Gastown
On Siply – Yes!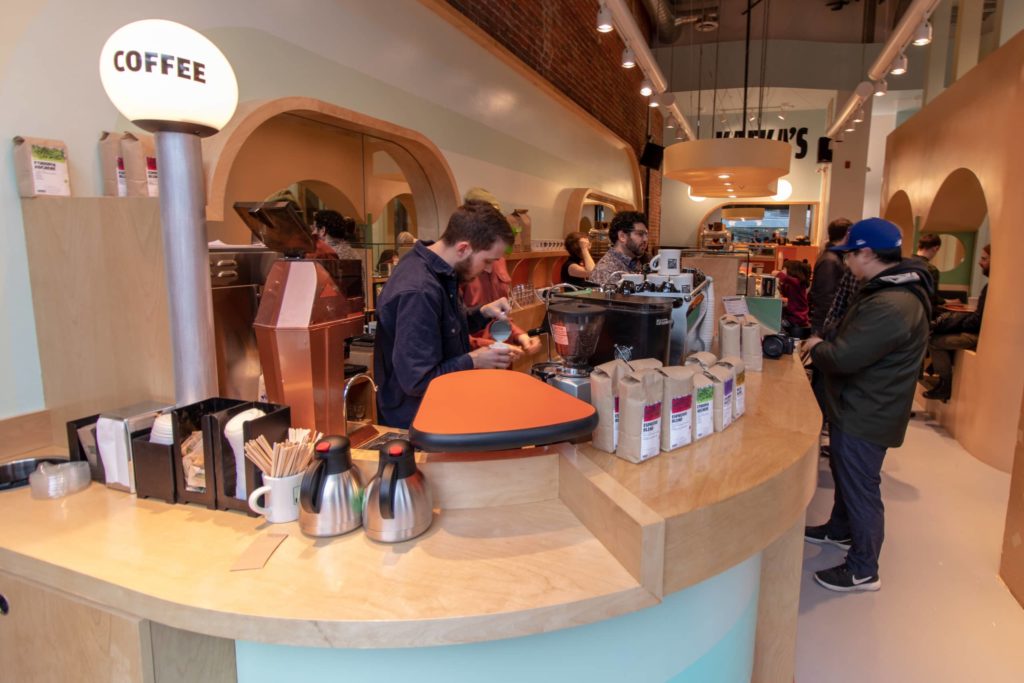 Kafka's new Gastown venue might be my top aesthetic pick for the whole city. It's a mind-bending blend of 1950's art deco curves, modern materials and Gastown brickwork. It's truly a sight to be seen.
You can expect a full lineup of espresso and filter coffee, with some really innovative cold brew drinks on the menu (not all of them coffee). Food-wise, they have a selection of sweet and savoury treats, all served up by some seasoned veteran baristas that know how to make your visit a special one. But be sure not to leave this place without sitting in their floating curvy booths with floor to ceiling windows!
Vancouver Coffee Snob Recommendation: They have one of my favourite Nitro Cold Brew's in the city, so I'd highly recommend giving this smooth and sexy drink a try. If you want it hot and sweaty, their flat whites are off the charts.
Click here to use Siply to unlock the best pricing at Kafkas Gastown
---
1. Harken Coffee
338 Powell St, Railtown
Harken is what happens when you cherry-pick some of the brightest minds in coffee, blend them all up and pour them over a blank canvas shop in Japantown.
The venue is innovative, the coffee is all roasted in-house (by a head roaster that has won pretty much every coffee competition the world has) and their all-vegan Japanese style food menu is so delicious I can't accurately describe it with text. You're just going to have to trust me and try it for yourself.
Vancouver Coffee Snob Recommendation: Everything. Literally Everything. Their espresso drinks are sublime, their batch brew filter coffee tastes like they made it in an Aeropress and their pour-overs are better than anything I could ever hope to make myself. OK, if you really have be told what to do, get a natural coffee brewed with a v60.
---
Coming tomorrow…
Check this blog at the same time tomorrow for the list of 10 Best Coffee Roasters in Vancouver. I promise you that the results are NOT what you're expecting!