The 10 Best Coffee Roasters in Vancouver 2021
It's day two of the 2021 Snobby Awards!
Yesterday we saw The Best NEW Coffee Shops of 2021 and today sees me announce the 10 best coffee roasters in Vancouver 2021.
---
The 10 Best Coffee Roasters in Vancouver 2021 list is bought to you by Roaster Central
Roaster Central is an online marketplace for local craft-roasted coffee.
You can choose from over 50 different types of beans, from 25 (and counting) brands, then have them shipped to your front door.
We're talking about amazing businesses, too! Pallet, Agro, Detour, Harken, House of Funk, and loads more.
This ain't a basic selection of coffee. This is the real deal, high-end stuff!
If you're interested in checking them out you can head to their online store here, or keep an eye out for links by the individual roasters throughout this list.
---
10. Lüna Coffee
Light and bright is at the forefront of what makes Lüna Coffee tick.
You can expect light roast, bright and beautiful coffee, from this incredible little company.
Their efforts towards sourcing and transparency are leading the way for the Vancouver coffee scene. Plus their coffee is damn delicious.
Vancouver Coffee Snob Recommendation: Pretty much anything from Ethiopia! Their African coffees are always a juicy, fruity and intense experience.
---
9. Agro Coffee
View this post on Instagram
2021 saw Agro finally open their brand new roastery!
It's bigger, better and they have an even chunkier roaster to pump out more coffee.
They closed their tasting room, so it's online and stores only. But what you can expect is anything from one of the best dark roasts in the city, all the way to light and bright.
Vancouver Coffee Snob Recommendation: My personal preference is their Roasters Choice series. They had a Colombian this year that was incredible.
Click here to buy Agro Coffee at Roaster Central
---
8. Nemesis Coffee
Nemesis only just started roasting this year, with the opening of their GNW location. But my god, what a start out of the gate!
Their coffee focuses on direct to farm trade, paying over-fair prices and roasting light and delicious.
Oh and don't get me started on how beautiful their packaging is!
Vancouver Coffee Snob Recommendation: Nemesis have close ties with a farm in India, so if you see coffee from that reigon on the menu buy that. You'll get a bright, smooth and very surprising cup.
---
7. Harken
As the unofficial founder of the Stacey Lynden fan club, I'm very happy to see Harken in the top 10 again!
For those of you that don't know, Stacey is the head roaster for Harken and cut her teeth roasting in several of the big names around Vancouver.
Their coffee is light and intense, with a focus on high-end quality and varying flavour profiles.
Vancouver Coffee Snob Recommendation: I'm a huge fan of their Winter blend on espresso, but hit me with a natural process coffee every time if we're talking about brewing a pour over.
Click here to buy their coffee at Roaster Central
---
---
6. Kafka's
For the longest time Kafka's roasted their coffee down in the land of Eagles and freedom. But recently they moved up to Vancouver and have taken a more hands-on approach with their roasting.
The results are a might tigher and vibrant coffee experience, with their juicy, fruity and bergamotty (a new word I just made up) Ethiopian being a particular highlight of their new roasting process.
Vancouver Coffee Snob Recommendation: Their Simpler Times blend is a really special daily drinker when brewed on filter.
---
5. Modus Coffee Roasters
Modus have been on the Top10 roaster list since I started it, and for good reason. Their coffee is freaking spectacular.
They're one of the key roasters in Vancouver that always, and I mean always produce clean, easy to drink and vibrant coffees.
Their coffee shop is also a masterpiece of relaxed atmosphere and a regular who's who of coffee nerds at the tables.
Vancouver Coffee Snob Recommendation: I'm a massive fan of their LATIF roasts as well as HIRO when they have it on bar. But chat to the staff, tell them what you like and they'll advise accordingly.
---
4. Smoking Gun Coffee Roasters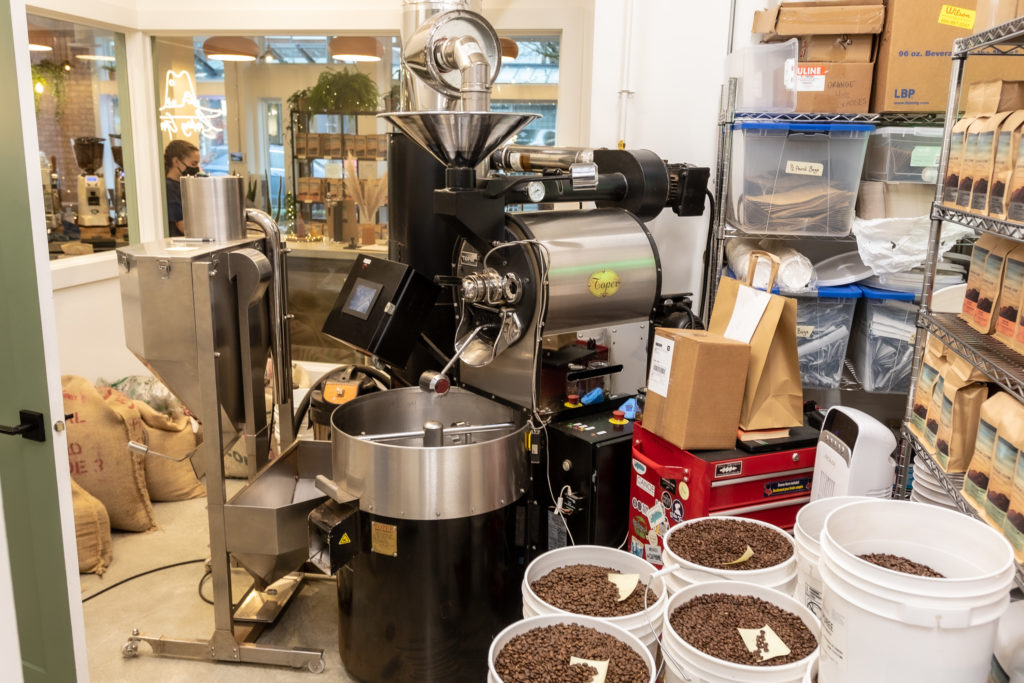 Hot off the announcement of Smoking Gun being the Best New Coffee Shop of 2021, they smash their way into the Best Coffee Roasters in Vancouver 2021 list too!
You can expect anything from darker roasts, all the way to light and bright floral forward coffee. Sure you have to go to Chilliwack to see their cafe, but the team at Roaster Central has you covered if you want to try it in their showroom.
Vancouver Coffee Snob Recommendation: I really liked this years Tanzania peaberry. It had some great juicy fruit notes to it and was really easy to brew.
Click here to buy their coffee at Roaster Central
---
[adsanity align='alignnone' id=6071]
---
3. Pallet Coffee Roasters
Let's face it, this wouldn't be a respectable list if Pallet didn't make it into at LEAST the top 3!
They're well known for having some of the best tasting, easy brewing and repeatable coffee in Vancouver.
Their range goes from impossibly well-balanced espresso roasts (Benchmark) all the way to their Motive series, which highlights interesting processing methods and micro-lot farms.
Vancouver Coffee Snob Recommendation: Where to start? Literally anything I have from them is gold. OK if you insist, their Holiday coffee is always a good time, but if you can get hold of anything they roast from Kayon Mountain, it'll be a moment you won't forget.
Click here to buy their coffee at Roaster Central
---
2. Prototype Coffee
Every single coffee at Prototype is roasted on the above pictured tiny Bullet roasters! The end result is some truly spectacular coffee that's painstakingly produced at the highest quality.
Prototype definitely focuses on light roast, so what you're going to experience is bright, juicy, fruity and often very floral coffees.
That being said, they often dabble with experimental process methods that result in some pretty wacky flavour profiles.
Vancouver Coffee Snob Recommendation: If budget allows, go for a Geisha and have your taste buds rocked. If you want to go middle of the pack, I often find anything from Colombia on their menu to be warm and inviting. For those of you with a sweeter tooth, they have Eggnogg lattes during the holiday period. But if you miss those, get a bottle of iced Oatmilk Flat White into your belly!
Click here to buy their coffee at Roaster Central
---
1. House of Funk Roasting
The Winner of The Best Coffee Roasters in Vancouver 2021
If I'm being completely honest, I was rooting for House of Funk to make it into the top 3. And for good reason – their coffee this year has been nothing short of bloody spectacular.
Head roaster, Ann Hnatyshyn, has spent 2021 working on what I consider two categories:
1) Crowd pleasers that taste damn good,
2) Mind benders that completely slap your palate around (in a wonderful way).
They've released some of the fruitiest and juiciest coffees I've ever tried, then completely changed direction the next month and launched coffees that have been aged in whiskey barrels and taste like booze!
Oh and if brewing coffee isn't your thing. How about the fact that they released a carbonated coffee in a can this year!? It's bubbly, zingy and packs a caffeinated punch.
Vancouver Coffee Snob Recommendation: For the crowd-pleaser, I always aim at Mellow Caramello. It's honestly one of the best daily drinkers I've ever had.
For espresso, their Technicolour is absolutely my favourite to use for iced lattes in the summer.
If I want to spice things up, I'll open my latest Omakase subscription box. It's sent to me each month and contains two completely batshit insane coffees that truly tantalize my tastebuds.
Click here to buy their coffee at Roaster Central
---
Coming tomorrow…
Tomorrow is the big one –  The list of 10 Best Coffee Shops in Vancouver.
There are some seriously great coffee shops on the list this year.
And it's a VERY different list from last year!
If you want to be the first to know when the list is published, put your info into the form below.
In case you missed it, here is the Top 10 NEW Coffee Shops of 2021 list, that was published yesterday.